How To: Pretty Product Packaging (Pt 2)
Hi + welcome to the 2nd segment of a 9-part series of something I am SUPER passionate about: Branding & Packaging!
As I've said before:
I've learned through my 7+ years of small creative business branding that
simplicity. is. always. best!
My mission: to create beautiful packaging ideas to inspire you in your creative business, and to send off your products in a way that will make your brand shine bright & really wow your clients.
So let's get off to the races with project #2: Custom Ribbon!
Project Two: Custom Ribbon
(with a little help from my friends at Paloma's Nest)
Supplies*:
1" Cotton Twill Tape Ribbon, Natural
Three (3) Rubber Stamps:
Kraft Paper Wrap, scissors & tape
StazOn ink pad
Box of your awesome products
I said these projects would be simple and I promise they are truly simple.
Here are the steps, if you haven't already guessed them.
How To Make:
Roll out some twill tape ribbon onto a spot you don't mind getting a little inky.
Stamp all over your ribbon - I liked to space them about 2" apart
with the one illustration (the dove) stamped off the edges.
Don't worry about getting it perfect - perfect will look boring!
Grab your box full of goods & wrap it up with kraft paper.
Wrap your ribbon around, tie a bow + take a bow!
That's it! Your packaging is ready to go out and represent your brand!
Some Extra Notes for you, Ambitious Reader of All The Words:
I also tried this ribbon with the logo stamps from last week's project and really loved it! The larger 2" x 2" stamp went off the edges and made a really cool effect that would match all the rest of Catie Miller Ceramics' branding; so don't worry if your logo or brand name sizing doesn't line up exactly with the specs from this project.
One of the best parts of having your illustrations made into separate stamps from your brand name text is how much more you can do: stamp business cards with the image above your brand name, stamp your illustrations all over your kraft paper for packaging similar to my last project, really the possibilities are endless.
You can also switch up your illustration stamps to show off a new collection, new branding, etc.
See below for a peek at the next packaging project especially for
farmer's market + small biz farm friends: branded egg cartons!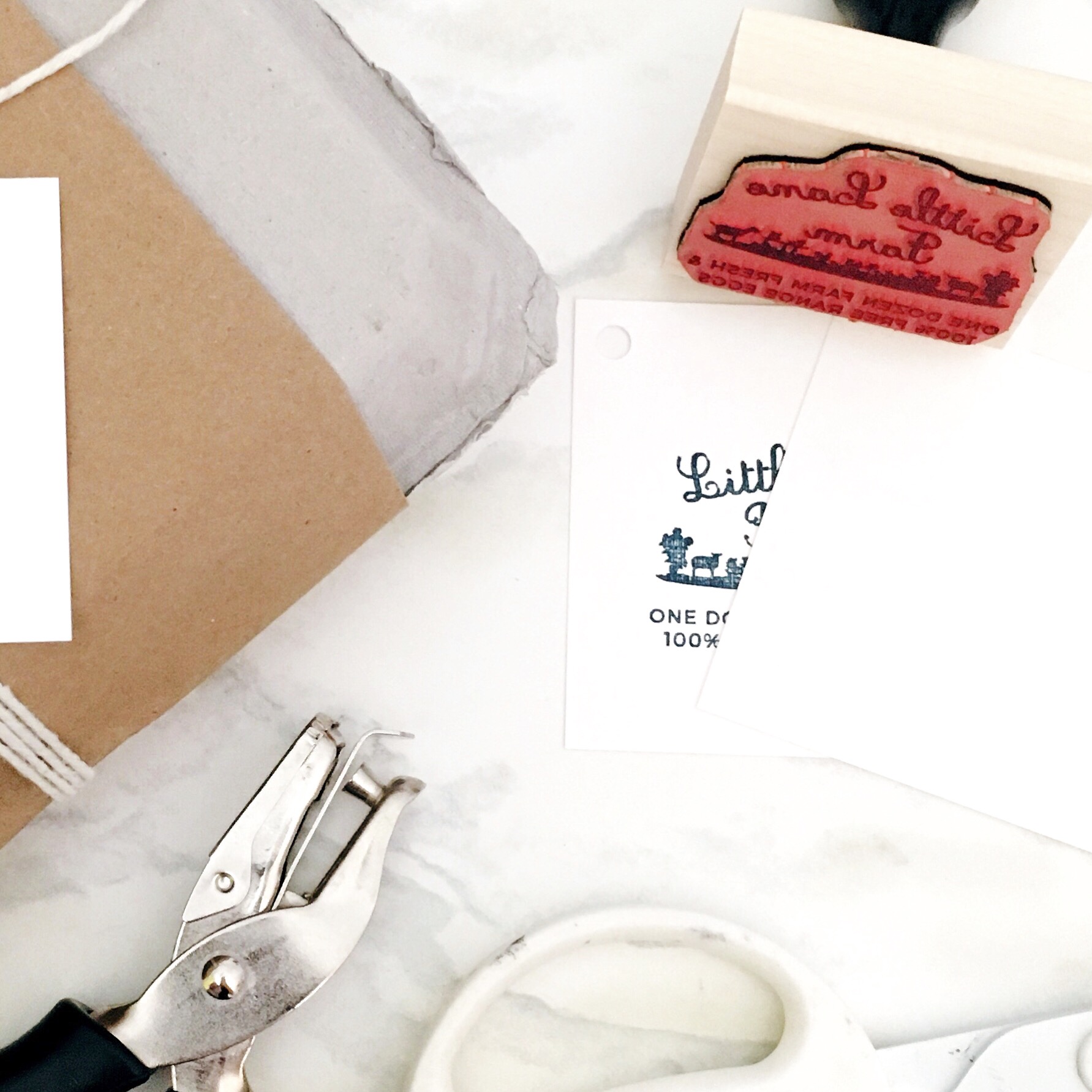 * Product links are not affiliate links. They're links to the products I use because I love them, period. If you love this project, I'd love to make up some stamps for you here and get you started on your way to packaging greatness! ;)