DIY Small Biz Thank You Notes
Sometimes a simple "Thank You" isn't quite enough for me when it comes to sending my super-intense gratitude to the buyers that support my small biz.
In case you feel the same, I wanted to give you a little DIY to show you how I send my own personal thanks in every package:
without hand writing &
without having to print or cut out business cards!
These also happen to be earth-friendly. So like, a super WIN for all ;)
Supplies*:
How To Make:
Get your biz cards: I like to design these "Thank You" notes with a little bit of color that matches my branding + a coupon code at the bottom (see above). They have a TON of templates to choose from if you don't want to design yours from scratch as well. ** Leave the backs blank!
Get your stamp: All I did for my stamp is write up a heartfelt thank you note. You can totally design your own or just send me the words you'd like, either way I can get you set up with something sweet and simple. Or you can go ahead and grab this one that I've already set up for you. (Side note: This and my main logo stamps are the *most used* in my personal stamp arsenal.)
Print em: StazOn ink dries like BOOM on these recycled cards. Like literally in seconds, it is like magic. That size stamp is fairly easy to center, though I love the imperfect! Having it be a little off-center helps make the words stand out and hopefully also will convey that you care enough to handprint your thank-yous.

That's it!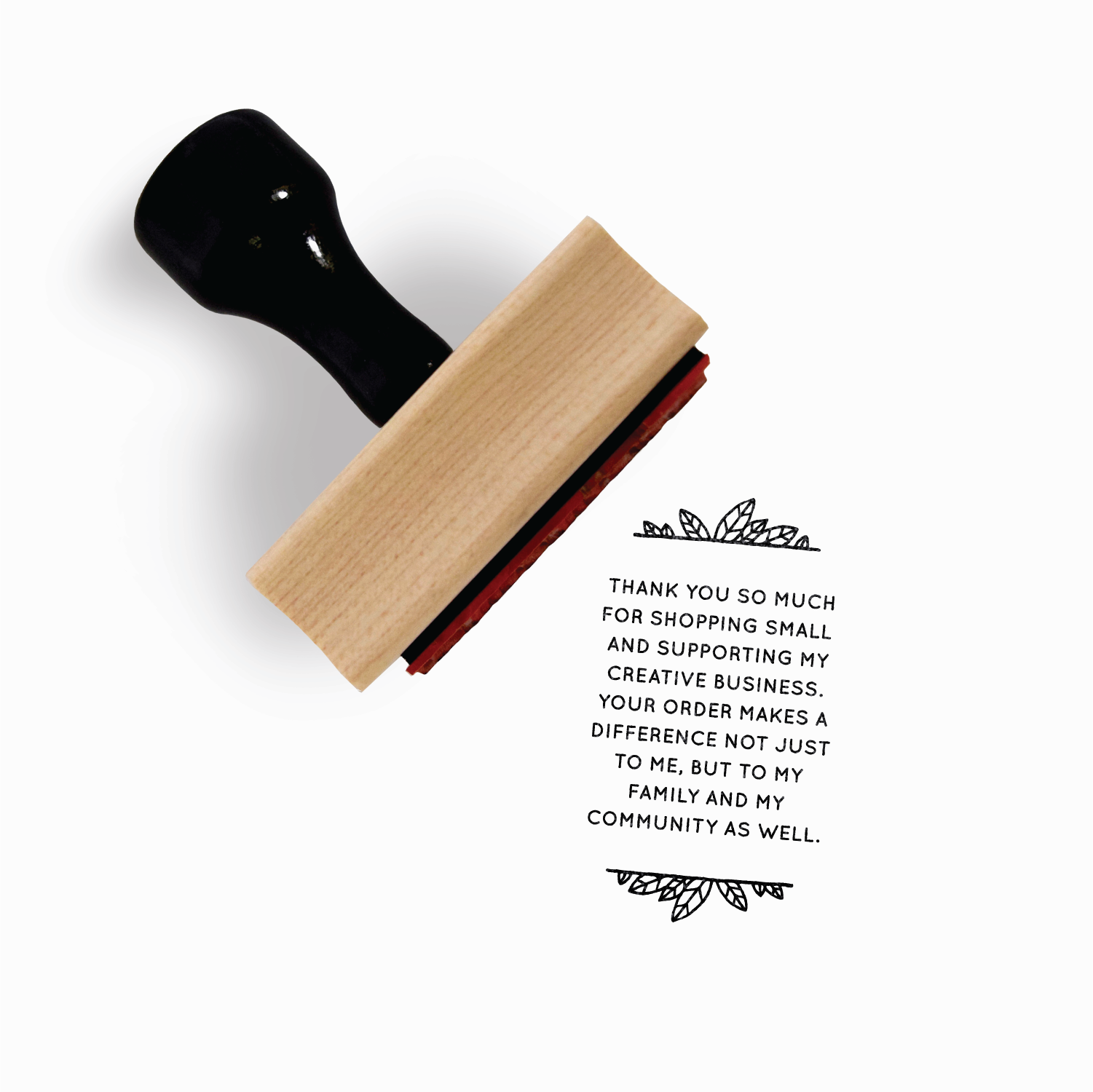 Extra Tip:
When you go to do your printing, try stamping a large stack at a time so you've got them ready to go -- I've found its not *nearly* as fun to package when I have to stop and stamp a card every time I pack up a box!

I wanted buyers to know how their purchase was not only making me happy-dance, but also helping me support myself, my family and my community. I don't think we're always thinking about just how *much* shopping with a small business makes a difference to the people we support with those dollars. I want people to feel as warm and fuzzy as I do about it, and know just how *awesome* they are! (Want to steal my words? I'm totally cool with that.)
Happy stamping, friends!!!
* Product links are not affiliate links. They're links to the products I use because I love them, period. I'm *most* interested in helping you get maximum usefulness from your Creatiate stamps. So if you love this project, I'd love to make up some stamps for you here and get you started on your way to packaging greatness! ;)